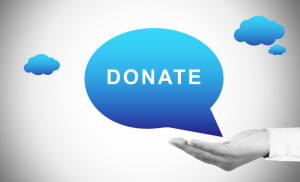 Many pastors don't want to ask their congregants to donate money for expanding or relocating their church facility.  Why is that?  Is it fear that your expansion vision will be challenged?  Is it a fear of weak support?  Is it a fear that your members will flee to another church?
But actually, your congregants want to be led to a place of greater blessing and joy. This can come from learning about the blessings of generosity and then offering one's talent and one's treasure back to the One who provided it to us in the first place.  After all, we can't take it with us, but we can send it on ahead (MT 6:20).  Giving a portion back, of that which has been given to us, brings great joy.  Randy Alcorn, in his book The Treasure Principle, tells us that our hearts follow our treasure and "the more we give, the more we delight in our giving—and the more God delights in us."  After all, He owns everything and He gave it to us to use.  Out of our thankfulness, we want to give back.  Your congregants want to learn this!
Feeling a part of Something Special.   If your church already has a compelling need to expand or relocate, then it's likely that your congregants are enduring crowded conditions or the difficulty of finding a parking space. And yet they still come.  They wouldn't think of leaving.  There is a great attraction—a buzz about their church.  They feel a part of something special.  Life changes are occurring within the congregation, and life rescue is occurring to the poor and needy nearby.
Owning a piece of their Rock.   Your congregants want an opportunity to become more vested in their church.  They are proud of their church.  Those that invest in their church facility will be your most committed attender members—attending more frequently, volunteering more frequently and telling other people about their church most frequently.  If you just ask, they will willingly respond by giving of their precious treasure to a cause that they cherish being a part of, and a place they love coming to each week.
Just Ask 'em!   If you really want to know whether your church is ready to expand, start by engaging with your most committed leaders.  These are members that are already giving of their precious time, talent and treasure.  It's likely that they already feel the tension of the restricted facility.  By engaging in conversation with your leaders, you will soon know God's desires for your church's future and the timing of starting your generosity journey.
A Generosity Journey.   Taking your church community—including your staff, your members and attenders—through a generosity journey with a clear expansion initiative may be the most uniting experience your church will ever undertake.  Through such a journey focused on learning about the blessings of generosity, your church will come together like you have never imagined. Hearts will be changed.  For where your treasure is, there your heart will also be (Matthew 6:21).  Not only will your teaching likely result in new capital for an expansion project, but it will also result in increased regular giving as well.
If you are thinking of expanding your church facility, then your next step will be to complete a strategic plan and financial feasibility. You'll need such a plan to successfully get people committed to donating money for your future facility project. Church Facility Solutions team is ready to assist you in creating what we call a Facility Goal Report. Once this planning process is underway, then you're ready to find a stewardship coach who will guide you through your generosity journey (your capital campaign).
CFS is a full-service commercial real estate development organization committed to serving churches. This vision aligns with our principals' personal values as followers of Jesus Christ.  CFS provides A to Z services including strategic planning, financial feasibility, site or building selection, capital campaign, financing (as owner's representative), project team selection, project and construction management (also as owner's representative), furniture, fixtures, equipment, audio, visual, light procurement, and relocation coordination.
For more information about Church Facility Solutions, check out us out at http://churchfacilitysolutions.com or contact us at info@churchfacilitysolitions.com.