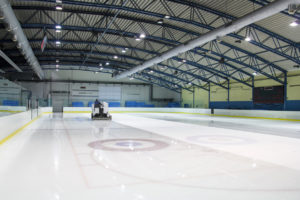 For any church facility expansion, the first priority is to investigate the availability of existing buildings that can be purchased. The advantages of renovating an existing building are significant compared to the much higher cost and longer duration of developing from the ground-up.
Recently, we were asked by a church in Kansas City to give them our impressions of converting a former ice hockey recreational facility, formerly known as Drive5 Sports Center, located at 12140 W 135th Street in Overland Park, Kansas, into a fully functioning church facility. Would it work? What are the concerns? What are the likely costs? Below is the initial analysis that CFS provided to this church.
This is a good example of how CFS looks at any property to be converted to a church.
The most important issues in any land and building analysis starts with the following critical areas that include zoning, parking, life safety, mechanical (HVAC), floor plan and renovation costs. But if a church is going to invest millions in a new facility, it needs to not just think about ministry for the next 5 years; it needs to think about the scale-ability of the property to serve the community for the next 30 years. So talking big picture for this property, the ability to expand in multiple phases, we wonder whether this property would accomplish your church's long term goals.
So let's get started.
Zoning. The first test is whether the zoning currently allows for church use and it appears that it does. The property located at 12140 W 135th Street in Overland Park, Kansas is zoned CP-2 which includes all allowable uses in C-O which in 18.250.020 J) expressly allows "Churches". Check that box!
Parking. One of the biggest mistakes churches make is planning their future church facility without enough parking. This site is 3.7 acres. We usually figure 1 acre is required for every 100 seats in the sanctuary (see Church Facility Rules of Thumb on our website). So a 500 seat sanctuary would ideally require 5 acres. But we don't live in a perfect world (even though we have a perfect God J).
I counted 265 parking spaces for this property. You'll need to verify your parking usage, but I will guess that for your church on Sundays, 2.4 people will arrive in each car. We figure from 2.25 to 2.5. This means that with 265 parking spaces, you can have up to 636 people (2.4 X 265 spaces) in your building at one time (regardless of what the fire occupancy might be). So it might break down like this: 465 adults in worship (sanctuary), 140 children or youth (30% of adult population) and 31 additional (staff, volunteers, people staying between services). If you have 465 adults in your sanctuary, then a 547 seat venue would be 85% full…about the norm. If you have adults staying between services (adult bible study?), then you will have to plan on a smaller sanctuary. Be aware that you will not be able to expand the sanctuary beyond this number of seats without acquiring more land for parking. I see that the land next door is undeveloped. I would caution you to think that you can borrow someone else's parking nearby or perhaps bus people in. I have seen these exact plans fail. You need have all parking adjacent to the facility.
Life Safety. With any renovation requiring you to obtain a building permit (which you should expect), you will need to bring the building up to meet code. This means the life safety including the fire detectors, alarms, notification system and sprinklers. If the building is not sprinkled, this will be your biggest expense, although I see a "sprinkler" room next to the mechanical room.
Mechanical. The most expensive renovation expense for a church acquiring and renovating any building is upgrading the mechanical (HVAC) to meet the IBC code. So be sure you have a good mechanical contractor (preferable with design capabilities) that can inspect what is there and tell you if you have enough fresh air intake, enough cold air generation for the number of people you are planning in the building at peak capacity.
Floor Plan. I am assuming that each hockey rink/basketball area is full height (floor to ceiling on level) and that the second floor area is just in the middle area between the 2 areas. Since a typical hockey rink is 17,000 square feet. It appears you have about 7,800 SF for the sanctuary. We typically figure 15 SF per seat including the stage area. Therefore, this size room would accommodate up to 520 seats and aisles. I generally recommend that the stage have storage behind or next to it and also have loading access from the outside. Right now, you are showing the stage to be internal with no access except from within the room. If you put the hallway adjacent to the sanctuary leading to the basketball area on the interior next to the "core", then you can reverse the stage and have it along the outside perimeter wall. Regarding the children's classroom areas, is the ceiling height on the second floor sufficient for kids in rooms? you'll need preferably 14' clear. Ideally this would be open and spray painted black.
Renovation Costs. The cost to renovate is nearly impossible to determine without visiting the property. But that said, I will go out on a limb. You'll probably spend $60/SF for the areas you'll be renovating. I am guessing this area will be approximately 22,000 SF (8,000 SF sanctuary, 7,000 SF lobby, 7,000 SF kids) and will cost $1.3-$1.6 million to renovate. This is the hard costs ONLY. On top of that you can expect to spend another $200-$250K (15% of hard costs)- for design, engineering and project management. If you plan to originate a capital campaign, you will have costs, If you need a loan, you will have closing costs. Then don't forget to plan for new furniture fixtures and equipment for the entire building AND audio, visual, lighting for the sanctuary which could cost a lot! AVL is the most compromised renovation expense and yet can be the most expensive depending on your culture and the building's bones. At a bare minimum for AVL, for a 465 seat venue, you should plan on $300K. At a bare minimum for FF&E, you should plan on $200K. This all adds up to a minimum of spending approximately $2.1 million plus the acquisition cost of the property.
Big Picture. We generally figure on 50 square feet per seat in the worship area to create a fully functioning church facility (see attached Rules of Thumb). Therefore, an 80,000 SF building should in theory accommodate a 1,600 seat sanctuary (80,000 divided by 50). Therefore, are you planning to increase your sanctuary as you expand? If so, you want to be clear about what this future expansion looks like (ie where this larger auditorium and lobby will be). I recommend you plan for the future today so you don't end up wasting money. Also, as you increase your sanctuary, you will need to increase your lobby and your children's area. The facility should always be in balance.
Conclusion. This is only a beginning. There is so much more that should be talked about, starting with the funding and ongoing expenses, before a church makes an offer to purchase property. We'll explore some of these other issues in subsequent articles.
We are happy to offer our opinion of your potential future church property, at no cost nor obligation!
Church Facility Solutions leads expanding churches through the entire A to Z process including strategic planning, financial feasibility, site or building selection, capital campaign, financing, project team selection, project and construction management, outfitting the space with furniture, fixtures, equipment, audio, visual, light procurement, and relocation coordination.
For more information about CFS, check out us out at http://churchfacilitysolutions.com or contact us at info@churchfacilitysolitions.com.