University Hills Baptist Church, was thriving in the 1980's and needed a larger auditorium. In 1987, the church decided to expand and constructed a 1,100 seat auditorium, classrooms and office space based upon the availability of abundant (and free) parking directly west at the largely unoccupied former University Hills Shopping Center. In 1997, the shopping center was redeveloped which eliminated the church's access to this parking. With only 55 off-street parking spaces, and very few street parking opportunities, the church went into decline and the church's property became functionally obsolete.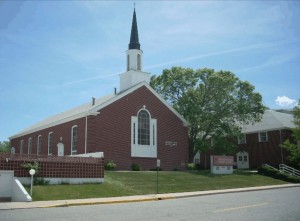 CFS was tapped to position this church property for sale for a higher and better use as a senior housing or multi-family and sold the property to an age restricted Senior Housing Developer (Henry Burgwyn).
Assignment Highlights
Preserve Church for Kingdom. In an attempt to preserve the property for the Kingdom, CFS was able to arrange long term parking north of Yale Avenue. This proved too inconvenient for any prospective church to go forward and purchase this property.
Highest and Best Use. Investigated potential redevelopment uses in this R-3 Zone District based on location, access, permissible new development square footage, and comparable property sales. These included as a church, charter school, senior housing or multifamily.
Slater Paull Architects graciously design a charter school concept showing that using the 55 parking spaces could be functionally successful for K-6.
Eventually determined that multifamily gross floor areas and required parking could produce the highest likely selling price close to the asking price.
Proforma Modeling. Created a proforma financial model for a multi-family project containing between 80 – 100 units, each selling for $225,000 (average in area). This resulted in an estimated $18 million total project cost. In such a scenario, the land was worth approximately 10% of total cost or $1.8 million.
Identified multi-family, especially independent senior housing developers, currently working locations like this in the Denver metro area.
Results
Sold the church property as land for a future age-restricted (55+) senior housing community for $1.85 million.
Client redeployed its sale proceeds into an expanding church property in Highland's Ranch.