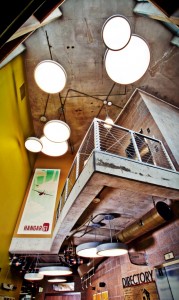 Stapleton Fellowship Church (SFC) had reached its maximum growth capacity at a interim school facility owned by Denver School of Science and Technology in Stapleton. With $4.9 million cash resources available (sale of previous property), SFC needed to procure it's own facility to solidify growth and its position in the burgeoning community of Stapleton.
Assignment Highlights
Church Facility Solutions acted as Project Manager for the management of ±$4 million adaptive reuse renovation project of a former corporate aircraft hangar. Responsibilities also included the design and engineering of the audio, visual, light, furniture, fixtures and equipment.
With the leadership of CFS, we invested 3 years seeking either land to develop ground-up or an existing building to renovate.
SFC had the former Linen's N Things building under contract in Stapleton Square, but the owner of the shopping center (Forest City) would not approve allowing a church to occupy this property even though Wal-Mart had said that it had no objection.
Acted as SFC's buyer agent (and renovation project manager—see below) for the purchase of a former and only remaining aircraft hangar located in the former Stapleton International Airport environs.
Selected Visioneering Studios (Irvine, California) whose principals formerly worked for Disney, to lead the renovation design effort.
Collaborated with Colorado Preservation, Inc. on the mechanical unit ducting in order to preserve this Denver Landmark's exterior heritage to the greatest extent possible.
Acted as SFC's project manager for the overall management of the project including design and engineering of the real estate but also the design and engineering of the audio, visual, light, furniture, fixtures and equipment.
Results
Negotiated a price significantly below the asking price to take advantage of a deteriorating office market in a depressed economic climate.
Installed Stapleton's first permanent church facility.
Hired Visioneering Studios from Irvine, California who specialized in church adaptive reuse projects.
Conducted a hard bid process with five (5) pre-qualified contractors whom CFS was previously familiar with and with whom CSF had the confidence could compete on price and delivery. Some of our pre-bid criteria were as follows:

Contractor must have had previous experience with each subcontractor on another project (no surprises);
Contractor must submit Master Schedule with their Guaranteed Maximum Price bid;
Bids were required in a specific spreadsheet format to be able to easily compare line items and to highlight discrepancies for further clarification.

Through the Bid Analysis process, determined that low bidder won the project in three primary categories – structural steel, mechanical/plumbing and fees/general conditions. The structural steel bid omitted some scope. The mechanical contractor was simply aggressive. The fee/general conditions were super aggressive as this general contractor had just had a $7 million dollar project put on hold, and they needed a replacement project for their superintendent and project manager so they wouldn't have to lay them off.
The low bid went to a general contractor that initially was not included since they were not seen as a bid contractor. As a result, the project benefited from one of the best quality contractors at the lowest possible price. This general contractor was able to keep senior personnel employed; proved to the market that they can be a formidable low-bid contractor; and proved to CFS that they can do hard bid work in addition to pre-negotiated scenarios.